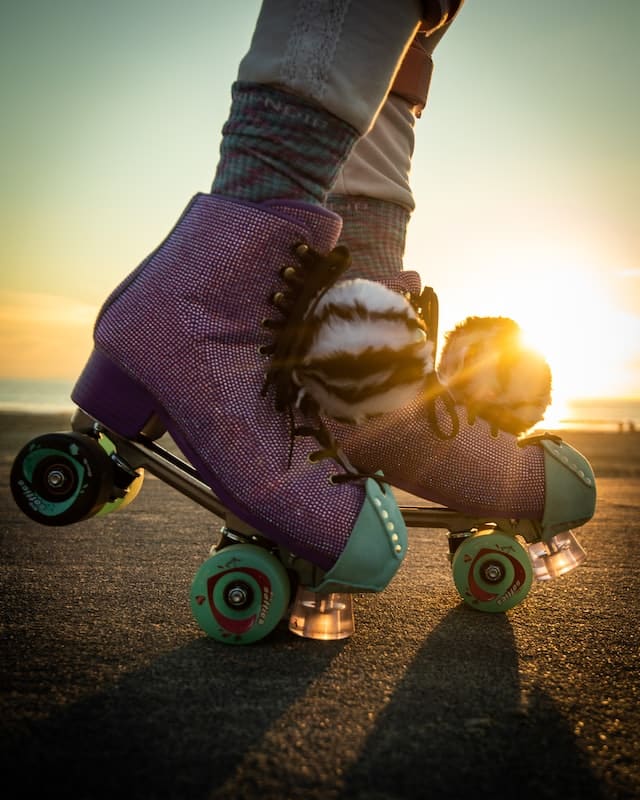 I loved international folk dance classes as a teenager. I even choreographed a jazz dance to Sammy Davis Jr.'s "Mr. Bojangles" with a hat as my main prop.
And, I loved to roller skate.
In the 70s, I went roller skating on Saturdays with my friend Glenna from the Netherlands. We'd meet our friends there and skate the night away.
We skated to songs like A Taste of Honey's "Boogie Oogie Oogie," Michael Jackson's "Rock with You," and the Bee Gee's "You Should Be Dancing." Oh yeah, that Saturday Night Fever. Pure fun.
Movement as Medicine
Dance moves stuck energy and invites creative energy. Movement makes us feel good.
Did you know your body has a built-in pharmacy? Exercise gives you a biochemical boost of joy that relieves anxiety and despair.
Stanford health psychologist and author, Kelly McGonigal, examines the neuroscience and evolutionary biology of movement in her book, Joy of Movement.
"During physical activity, muscles secrete hormones into your bloodstream that make your brain more resilient to stress. Scientists call them 'hope molecules.'" ~ Kelly McGonigal
Move twenty minutes at any intensity to get your daily dose of natural feel-good chemicals.
That's why I LOVE the movie "Roll Bounce" from 2005: It's cool, goofy, makes you laugh, and has good feeling vibes.
In the movie, a teenager turns to roller skating to deal with the loss of his mom. When his neighborhood rink closes, he and his friends join a skating competition at a skating rink in a rival neighborhood.
Here's the theme song from this film, "Bounce, Rock, Skate, Roll" by Vaughan Mason & Crew. (At 3:37, check out the cool drum segment.)
Listening to the song, I realized that it gives us a pair of fantastic "switchwords":
ROLL BOUNCE
Bounce (mmm)
ROCK, skate (ro-o-ol)
Roll, bounce (gooo-oo-whoa-oo whoa)
Rock, skate (and do your skate)
Roll, bounce (boooounce, oo)
Rock skate (ro-o-o-o-ol-o-o-o-ol)
Roll, bounce (yea-a-e-e-ah)(whoa)
Rock, skate (doin it)
Roll, bounce
Power of Switchwords
Switchwords are one-word or short phrase mantras that work at a subconscious level to bring about an internal shift. Read James T. Mangan's book, The Secret of Perfect Living, to learn more.
Switchwords are more effective than affirmations because they direct the subconscious mind. An affirmation is a statement of belief. For the affirmation to work fully, you must believe in it. Switchwords flip a switch on in your mind. It doesn't matter if you believe it or not.
Listen to the difference between "I am here now" (an affirmation) and "Be here now" (the word "be" is a switchword). "Be here now" sounds more immediate and present. We instinctively respond to it.
Both words ROLL and BOUNCE inspire movement. They give us a feeling of resilience.
Roll connects us with our agility and flexibility — to be able to roll with it.
Bounce connects us with buoyancy, boosting our optimism and ability to get back up. ROLL BOUNCE = light on our feet.
Holidays got you down? – ROLL BOUNCE.
Can't get out of bed? – ROLL BOUNCE.
Challenging day at work? – ROLL BOUNCE.
Do you want to amplify your switchwords, so they have a greater affect? Sing, say, and move to the words. When you add sound or movement to switchwords, you magnify them.
The movie's exuberance and joyful dancing inspired me to look up line dances on YouTube. Lines dances are synchronous.
When we dance together, we bond and connect.
Google your favorite line dances. How about a Country Western, Pop, or Motown song?
Here's the best wedding dance! Watch the Electric Side line dance at this UK wedding. Start a family dance night or community dance night. DANCE TOGETHER!