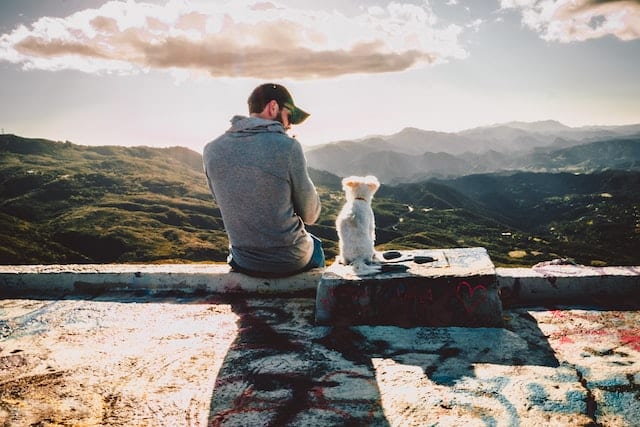 I see books as coaches. Their pages loosen old beliefs and introduce us to new perspectives.
If a book comes your way, consider yourself lucky.
Another Blessing from a Neighbor
On a recent walk on a nearby street, a woman befriended us. Her name is Pam. She started talking about a book she was reading that moved her to tears:
Will's Red Coat: The Story of One Old Dog Who Chose to Live Again
By Tom Ryan
Pam wasn't just recommending and loaning us her book. She was LIVING it; this book was her guide.
This is a true story of how a dog named Will is rescued from a kill shelter and adopted into the family of Tom Ryan, the author. With unconditional love, Tom and his other dog, Atticus, welcome this older, deaf, nearly blind dog with a biting habit into their home in the White Mountains of New Hampshire.
What follows is a two-and-a-half year transformational journey.
Pam, our neighbor, recently adopted rescue dog, Camille, a Cuban Maltese who was in five foster homes because of biting owners, children, and other dogs.
As we were talking with Pam, I had an unexpected flash of insight:
A dog like any person can be imprinted with "bad dog" labels and treatment. When we treat the dog with respect and reframe how we see him, he begins to heal.
Our level of respect for another has the power to shape reality; our attitude towards that person helps shape their potential development.
Respect is LOVE.
Here is some wisdom from the book, Will's Red Coat:
They co-created a world together in a space without judgment.
He used the same approach with Will as Atticus, his first dog who was also rescued from a kill shelter.
"From the beginning, I treated Atticus as a peer, not a pet. While society wanted him to be my baby or my son, and for me to be his pet partner or fur dad, from the beginning we were simply Tom and Atticus. I used polite requests instead of commands, and words like "please" and "thank you" were of the utmost importance to me.
"Atticus, would you have a seat, please. Thank you."
Tom started with a framework of Endless Possibilities.
He believed in Will's capacity to learn and to heal. Despite any difficulties, he moved forward with persistence.
"In 1830 Emerson wrote in his journal, 'In all my lectures I have taught one doctrine, namely the infinitude of the private man.'
"How grand is that? Infinitude.
"It speaks of endless possibilities for the individual so he or she can flourish and make more of a contribution to the world."
He recognized sound and smell as doorways for Will.
Since Will is deaf and nearly blind with cataracts in both his eyes, Tom used music and flowers to awaken him.
"Whenever I'd put him in his bed and cover him up, I'd have speakers nearby on the floor and choose melodies for him to drift off to, songs with words that lifted the soul.
"Lullabies if you will. But I call them Willabies. There were love songs, by performers like James Taylor, Sarah Brightman, Frank Sinatra, Billie Holiday, and Barbara Streisand."
Tom recognized Will's strongest sense was his sense of smell, so he got flowers for Will on a weekly basis. Then, he placed the flowers on the floor where he could sniff them with delight. This is service that is nuanced; he held an attitude of reverence for Will.
Nature as loving companion is a key character in this book: hiking to the top of Pine Mountain, walking the trails encircling Thorne Pond, even Will taking naps in his own Wildflower Garden.
"What I find in these mountains is transformation. As one season sheds its skin to make way for the next, I have felt myself doing the same, although my changes come at a snail's pace when they do. No longer in a hurry, or with much to prove, I plod on, remembering it's the passage that counts and not the destination. You could say that spirituality is a lot like hiking."
A couple of weeks later, we caught up with Pam and her dog, Camille
We ran into Pam and her dog, Camille, on a walk and joined them for a while. She and her husband said Camille had nipped at them a few times.
They talked about giving her a bath as a next step and said they'd wait a while. For now, it was enough that Camille liked to linger near the shower with the water on. They showed an unwavering commitment to Camille's healing journey.
Although some of the tension in Camille's body had noticeably released, there was more work to do. Transformation is a steady walk, letting go of fear, building inner strength, and trusting a little more each day. A lot like hiking.